STATE LINE TRAIL #738
Hoodoo Pass to North Fork of Fish Creek #103
Hike Distance: 3 to 6 miles
Hike Time: 2 to 7 hours
Elevation Gain: 1300 ft
Difficulty: Moderate
Travel Time to Trailhead: 1 hour from Superior
Summary:
This is an extremely scenic hike along the ridgeline between Montana and Idaho with amazing overlooks along the entire hike including birds eye views of Hidden, Hoodoo and Heart Lakes. Can also be done as a full day hike descending into Dalton Lake and coming out at the lower Heart Lake trailhead. Very aromatic and spectacular when in bloom with wild flowers.
Trail Overview:
This is a 7.2 mile segment of the State Line trail following the bitterroot divide, in a section of the proposed Great Burn Wilderness Area which for now has been designated a non-motorized vehicle area by the U.S.F.S. In 1908, the newly formed Forest Service constructed this trail as there first in this area.
The Native Americans traveled this route in search of the White Bark Pine Nuts and other food sources as many as 3500 years ago. The early day miners also traveled this route as they scurried from the gold strike at Moose City Id. To the new, strike on Cedar Cr. Mt. in 1869.
The 1910, fire burned this area leaving it almost void of timber therefore providing spectacular views form almost every step of this trail, including eight glacial lakes located in the basins a few hundred feet below the divide.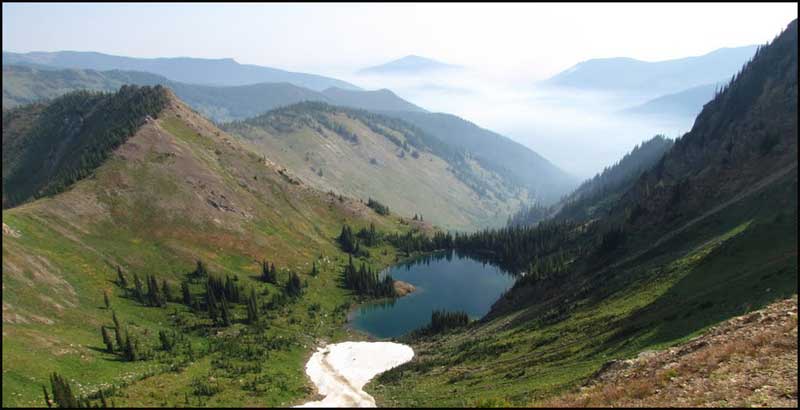 Dalton Lake - Raymond Gardner
Getting There:
From Superior go under the I-90 overpass,turn left on Diamond Rd, heading east, you will continue on this road to the top. At 6 miles the asphalt ends, at this point it becomes Trout Creek Rd. Continue up 14.1 miles and you will see the Heart Lake Trailhead on your left, there is parking on the right. Ideally it would be best to leave a car at this location to hike down to from the top. Continue up to the top of the pass another 4.5 miles. Hoodoo Pass Trailhead for State Line Trail No. 738 is on the left. There is room for plenty of parking, a loading dock and hitching rail. This is a good two lane gravel road but watch for wash boarding.This road continues into Idaho.
Approximately 1 hour driving time from Superior with a total of 24.6 miles.