Heart Lake Trail #171
Hike Distance: 8.4 miles - round trip
Hike Time: 6 hours
Elevation Gain: 1055 ft to lake, 2017ft to State Line Trail Head
Difficulty: Moderate
Travel Time to Trailhead: 45 minutes from Superior
Summary:
The trail follows along the South Fork of Trout Creek, through a dense timber forest to the base of Heart Lake, a beautiful lake surround by cliffs. The trail then climbs steeply to the State Line Trail with scenic views of Heart Lake and Pearl Lake with Lightening Peak in the distance.
Trail Overview:
This is a 4.2 mile trail passing Heart Lake then climbing to State Line Trail #738. The trail to Heart Lake crosses several small streams and swampy areas, which have foot logs or bridge crossings. Approximately 1 hour into the hike you will encounter 6 short switchbacks followed by two large rocks with a cave between them that the bear use for denning in the winter. A little further along you will come to an interesting view of a series of cascading falls. Then you will pass a grove of aspen trees in a rocky outcropping; there are not many aspen in the area other then these. You will then approach the outlet of the large clear water of Heart Lake at the base of massive cliffs with the State Line Trail running along it's upper ridge. This is a pristine lake that is excellent fishing for cutthroat and brook tout with excellent camping spots at the outlet. The trail to your left becomes #175 leading around the lake and up to Pearl Lake. Trail #171 continues to the right passing through an open basin that also has good campsites and water, continuing on it then climbs steeply up an open hillside to the State Line Trail. From here the State Line Trail continues to access the proposed Great Burn Wilderness Area.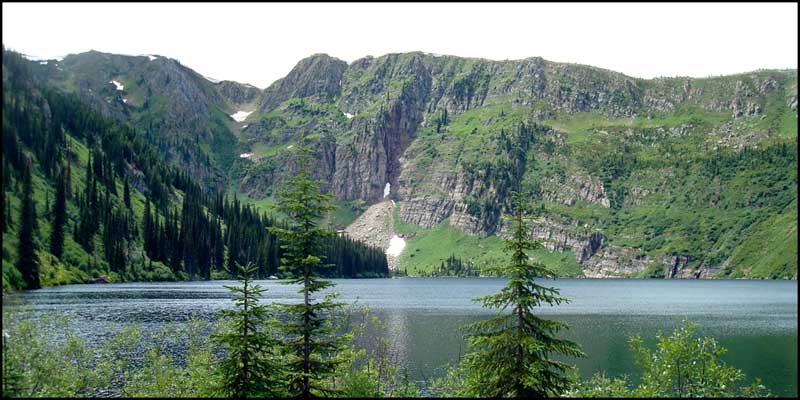 Heart Lake - James Cyr
Getting There:
From Superior go south under the I-90 overpass, turn left on Diamond Rd, heading east. At 6 miles the asphalt ends, at this point it becomes Trout Creek Rd #250. Continue up 14.1 miles and you will see the Heart Lake Trailhead on your left. The trailhead is well signed, just before a big turn in the road that crosses Trout Creek. There is a large parking area that can accommodate large trailers and many vehicles. The area also has a public restroom. This road continues up to Hoodoo Pass and into Idaho.
Approximately 45 minutes driving time from Superior with a total of 20.1 miles.